The 2023 release of Modern Warfare 3 has had a mixed reception as the game is falling into the hands of Call of Duty fans for the first time and players are excited for what future content awaits them in the MW3 And Warzone Season 1 Patch Notes.
The debut season for this year's Call of Duty is already highly anticipated as it will be interesting what direction the game will be taken in. MW3 has featured many reused maps, so will we receive new ones or are we about to get new ones?
We're also expecting much of the usual content updates including new weapons and a new Battle Pass, along with many quality of life and weapon balancing updates.
Here's all we know about the first season in MW3 and Warzone.
When Does Season 1 Of MW3 Start?
MW3 and Warzone's Season 1 start date is believed to be set for the 6th December 2023.
Trailer
What's New?
Warzone

Warzone on Urzikstan Season 1
Vondel and Ashika Island return
New Gulag
New Modes

Modern Warfare 3

4 New Maps
Ranked Play
New Modes
New Zombies Story Mission and locations
New Killstreaks

Global

New Weapons
New Operators
New Battle Pass
Bug Fixes
Quality of Life Improvements
MW3 And Warzone Season 1 Roadmap
MW3 And Warzone Season 1 Battle Pass
The Season 1 Battle Pass will follow a traditional Call of Duty format.
This new Battle Pass will have both paid and free rewards, with significantly more rewards for those who pay 1000 COD points for the Premium Battle Pass.
This new Battle Pass should feature new skins and cosmetics, as well as two new weapons and plenty of COD points.
Annihilate any opposition in golden grandeur with Call of Duty #Warzone and #MW3 Season 1 BlackCell, featuring Abolisher 💪#MW3 digital owners can upgrade to the Vault Edition to get all the benefits of BlackCell, Battle Pass and additional incentives 🔥 pic.twitter.com/fkNENYWmvv

— Call of Duty (@CallofDuty) December 5, 2023
MW3 And Warzone Season 1 New Weapons
There are rumours we may get as many as 5 new weapons in this new season which could feature some of the following weapons:
TAQ Evolvere (LMG)

XRK Stalker (Sniper)

RAM-7 (AR)

HRM-9 (SMG)

ARX160 (AR)
We're also getting a new vests and killstreaks.
Assassin Vest (Stealthy Killer)
Equipment Slots (2): Tactical, Lethal (Field Upgrade removed)
Gear Slots (3): Gloves, Boots, Gear
Kills don't display skulls. Immune to UAV and enemy radar effects (including while stationary). Duplicate effects do not stack. If equipped with Ghost T/V Camo, (Gear), you gain the effects of Hijacked IFF Strobe (Gear).
Swarm (15 Kills, 1,875 Points)
Deploys a large number of mosquito drones to provide blanket coverage over the entire area.
EMP (13 Kills, 1,625 Points)
Electromagnetic pulse to disrupt enemy Killstreaks and equipment.
MW3 Season 1 Maps
It was confirmed that 3 all-new 6v6 core maps will be added to the new season.
Greece – 6v6 (Launch)
Meat – 6v6 (Launch)
Rio – 6v6 – (In Season)
Training Facility – Gunfight (Launch)
They've alluded to the fact more will be coming, which could indicate new maps coming to the War mode or to Ground War.
You can read more here.
MW3 Season 1 Game Modes
Gunfight is returning in Season 1, which was the 2v2 mode made popular in 2019's Modern Warfare and has been featured in Call of Duty games since.
All or Nothing also makes a return, which is a knife-based game mode.
In season, Vortex (a new LTM) will be added. In this free-for-all mode, one player spawns in with the infamous Zombies Wonder Weapon, the one-shot Ray Gun. Whoever eliminates the Operator with the Ray Gun becomes the new owner of this powerful and otherworldly pistol. Vortex takes place on three remixed Multiplayer maps: Satan's Quarry, Sporeyard, and Tetanus.
Also coming in season is CODMAS: Santa's Slayground. As well as Headquarters, Team Gunfight and Infection all arrive.
You can read more here.
MW3 Season 1 Zombies
New Easter Eggs wil be making their appearance in the MW3 Zombies mode as Call of Duty as a new Story Mission is added.
Mule kick has been rumoured to return, giving players the ability to carry three weapons at once.
We're also getting a new Wonder Weapon – V-R11.
You can read more here.
Urzikstan Warzone Map
The new Urzikstan Warzone map will bring a new destination for Warzone fans.
The map is already present in the Zombies mode but will be made available for the popular Battle Royale with the new season.
You can read more here.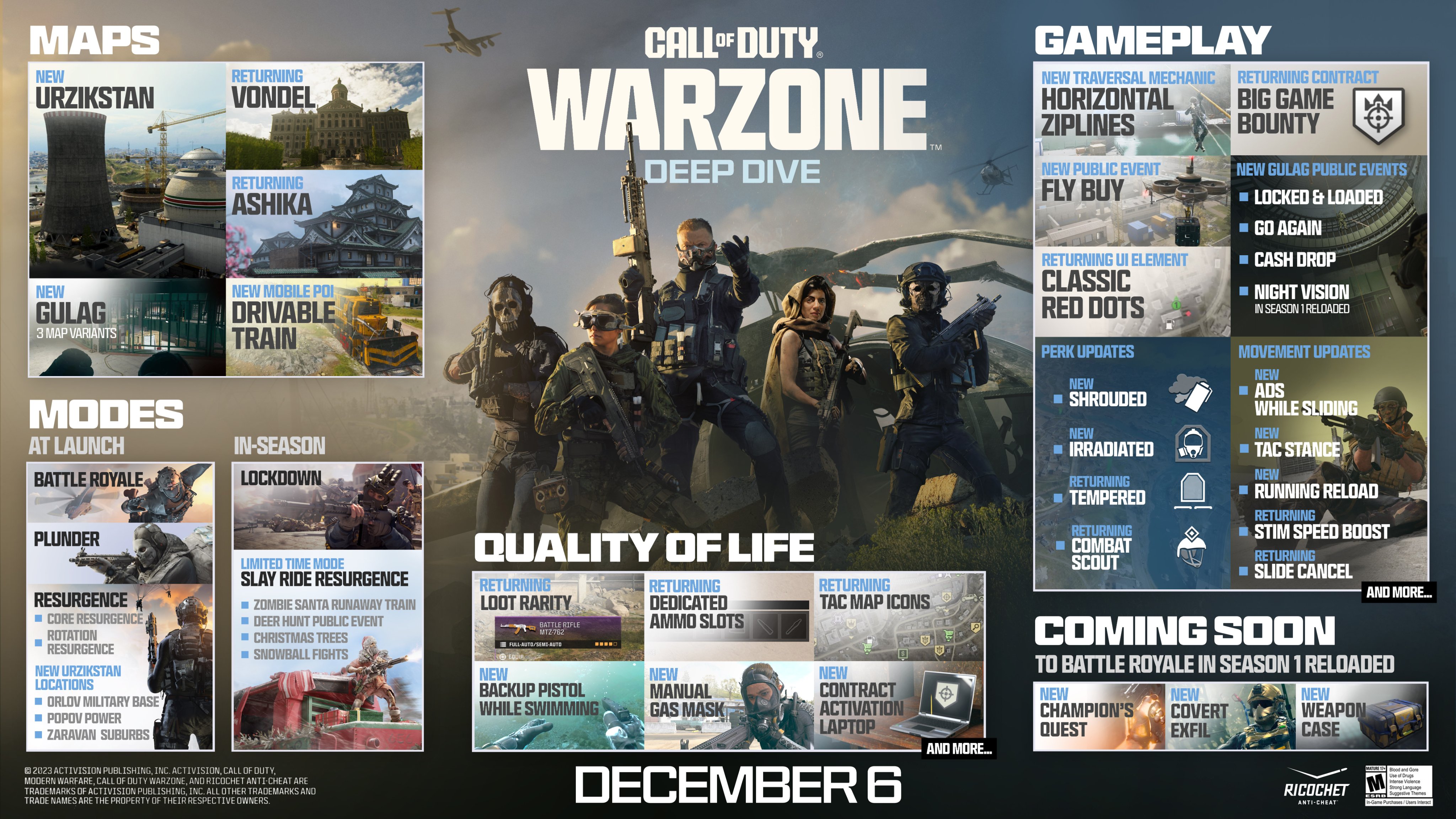 Holiday Themed Event
It's been confirmed that MW3 will participate in the holidays with themed content,
This may include cosmetics and weapon camos but will feature modes as well with possible winter-themed maps.